With the advent of the Internet, anyone can achieve fame. The main thing is to want. And do it. It doesn't matter what, but that everyone likes it. The most widespread method of self-promotion is still social networks. The most popular among young people is Instagram. People communicate, look for useful information and, of course, look through photos of acquaintances and strangers.
Beautiful girls are always out of competition, their pages are visited not only by men but also by women. Who are the queens of Instagram? Singers, actresses, models?
Not necessarily, some of them live their normal lives. It's just that they are so attractive that they cause a feeling of admiration and … the desire to subscribe to their profile.
We bring to your attention the rating of the most beautiful Instagram girls in the world: top 10 sexy blondes and brunettes, whose accounts are very popular.
10. Jen Selter
Followers: 12.7 million
American fashion model, fitness instructor. Her childhood was spent in Long Island, the girl grew up without a father, it was not easy.
At school, everyone laughed at Jen. The subject of bullying was her … appearance.
The girl concentrated on herself. She fell in love with sports and even became a fitness instructor. Now Jen Selter is a real beauty: excellent physical shape and pleasant facial features.
By the way, popularity did not come immediately. The girl registered in Intsagram in 2012, in 2014 she became famous. Even then, she began to receive offers of cooperation from popular magazines and large agencies and companies.
Jen has made herself, by her example she inspires many women. On her page, she willingly shares the secrets of an ideal body. Here you can find not only fitness lessons and nutritional advice, but also motivation. Selter knows how to inspire.
9. Amanda Lee
Followers: 11.9 million
Amanda Lee is a Canadian Pilates model and trainer. In her youth, she faced the same problems as Selter. They mocked her too, the girl was too thin.
Growing up, Lee set a goal for herself – to achieve the perfect figure. She did it. Amanda has a chic shape: lush breasts, thin waist and wide hips. Her body brings the girl a good income.
Well-known global brands such as Adidas collaborate with her. In addition, Amanda Lee regularly pleases subscribers with candid photos. Few would refuse to admire such a beauty.
8. Anastasia Gizerskaya
Number of subscribers: 968 thousand.
A blogger and fitness trainer from Moscow, of course, is not as popular as foreign models, but the girl has great potential. Anastasia Glizerskaya is young and beautiful, she has a toned body. The career of an office worker does not tempt Nastya, she earns money in a different way.
The girl arranges weight loss marathons, helps women achieve perfect shape. Recently, interest in her person has increased, she began to be invited to popular shows and television programs.
She was even a participant in the "Male & Female" program, where she did not hesitate to talk about her plastic surgeries. Yes, Anastasia does not hide that she has repeatedly corrected her appearance. In pursuit of the ideal, she is ready for anything.
7. Olya Abramovich
Followers: 1.5 million.
Russian Instagram star, model from Perm. Olga dreamed of becoming a model since childhood. But she went in a non-standard way. The girl did not go to the castings, but bought a good phone and went to a warm country.
Since 2013 Olga has been traveling the world and posting her photos on her Instagram page.
It is worth noting that Olga Abramovich is a girl without complexes. All of her photos are too frank, so much so that most of them are removed by the moderators.
Olga knows her worth and says that her body is a work of art that you can admire. You can't call her a modest one. For those who are shocked by erotic photos, Olga offers to unsubscribe and forget about her existence.
6. Svetlana Bilyalova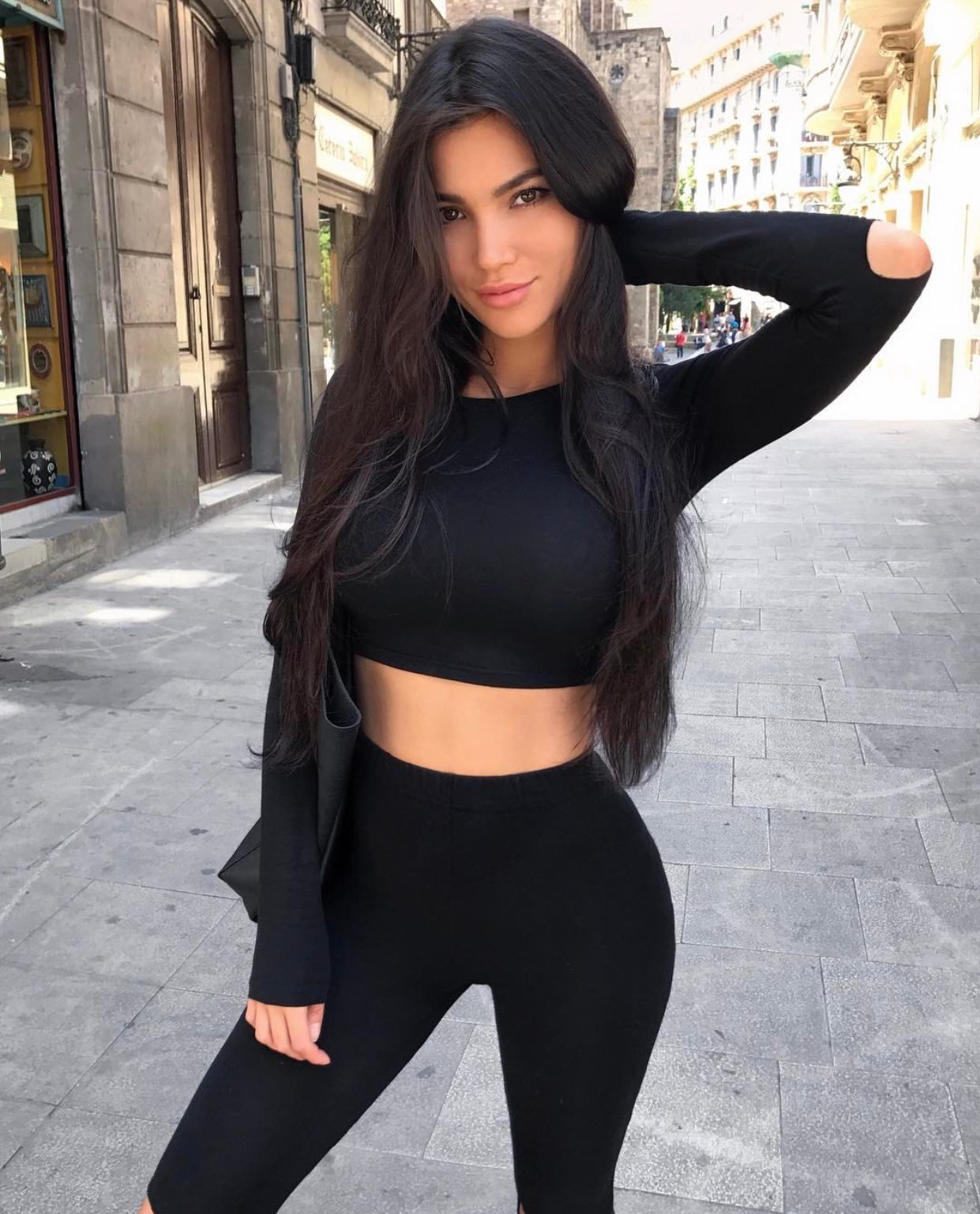 Followers: 6.3 million.
A hot brunette from Moscow who popularized belfie photography in the country. Of course, in our time, few people are surprised by photos of the fifth point, but this girl has something to be proud of, so the interest in her person does not subside.
Svetlana Bilyalova started her blog with training videos. Subscribers could watch her lose weight. After giving birth, she could not boast of ideal forms. Every day the number of people wishing to see everything with their own eyes grew, and the figure of the future model became more and more appetizing.
By the way, beauty is not all that Bilyalova possesses. She has a great sense of humor. She knows how to make her followers laugh.
5. Abigail Ratchford
Number of subscribers: 9 million.
An American model who started her career like millions of other girls. She participated in a beauty contest, where, unfortunately, she could not take a prize. However, the girl was not very upset about this.
She was noticed and offered cooperation. Even then, she starred for magazines and advertised products of famous brands. She has taken part in television shows on numerous occasions.
Abigail Ratchford is a pretty famous person, so it's no surprise that her Instagram page is so popular. Everyone wants to admire a beautiful woman with a gorgeous figure and pretty face.
4. Diana Melison
Followers: 1.9 million
Diana has many talents. She is a professional model, aspiring actress, DJ and popular blogger.
The attractive girl decided to try her hand at modeling when she turned 18. She has achieved some success in this area, but surprisingly, she did not limit herself to contracts.
She does not experience a shortage of work, well-known Russian agencies regularly invite Diana to shoot. Diana Melison's Instagram page has a lot of "in character" photos. These are professional photos with makeup and hair, where every detail is thought out to the smallest detail.
3. Victoria Odintsova
Followers: 4.8 million
Famous Russian fashion model. Bright appearance and ideal parameters – everyone predicted the girl's career as a model. Victoria began her studies at a modeling school. Now Odintsova is the leading model of the Mavrin Models agency.
She is popular not only in Russia but also abroad. She starred in commercials, her photos can often be seen in magazines. Victoria Odintsova even starred for the cover of Playboy.
She has a large number of subscribers on social networks, the girl tries to stir up their interest. So, in 2017, she filmed a video on the roof of a 300-meter skyscraper in Dubai. The girl risked her life, but whatever you do for the sake of popularity.
2. Galina Dubinenko
Followers: 1.1 million.
Galina did not even dream of the fame and career of a model. She wanted to work at a bank, and photography is just a hobby.
But the beauty of the girl played into her hands, Galina was noticed, and a year later she went on a journey with the team of the famous photographer Alexander Mavrin.
" Cutie " – this is how Galina Dubinenko is called . She is modest, soft, gentle and this stands out from other models. Despite these qualities, Galina knows what she wants from life, she does not like to sit still and always strives for perfection.
1. Demi Rose
Followers: 10.2 million
Demi from Britain dreamed of a career as a model, but with her short stature (157 centimeters), one should not even dream about it.
When she turned 18, the beauty started a page on Instagram and started uploading her pictures. She very quickly became popular, Demi Rose even began to recognize on the street. Advertising offers soon began to pour in.
The bright, energetic brunette walks forward without looking back. There is no framework for her. Thanks to her strong character, Demi managed to achieve fame. Now she is a welcome guest at many social events.
By the way, this girl shocks the public not only with erotic pictures, but also with revealing outfits. Demi is called the " British Kardashian ", she has very curvy hips and a thin waist.
By the way, beauty was accused many times of using the services of plastic surgeons. Demi denies everything, she claims that her body is the result of long and hard work.